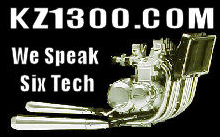 Did you know that KZ1300.com is under new management? In September of this year the owner of KZ1300.com announced that he was quitting and would sell the domain at auction. Long time moderator of KZr, Bill (KZQ) purchased the domain and its content and announced that he would restore the site's former luster and then some. There aren't many KZ1300 online communities around, and it will be very interesting to see how this site evolves in the coming months.

When Bill purchased his KZ1300 in 2005 and then a ZN1300 in 2006, the best source for technical information was the KZ1300 Club USA (KZ1300.com). There was no discussion forum, but the owner would answer emails and had compiled an extensive frequently asked questions sort of resource. Over all the the site was static, and the two yahoo groups linked to the site were poorly managed and filthy with spam and porn posts.

In 2007, Bill started another yahoo group and eventually convinced 275 members of the old groups to migrate over. The owner of KZ1300.com put a link to Bill's yahoo group on his site. Posts were infrequent and the features of the yahoo group were meager to say the least. All in all it was a weak community at best. Bill made several attempts to get folks to register at KZR all of which went nowhere. -These bikes were never very popular members of the KZ Clan, Bill states. He makes a good point. Out of 5,400 pictures in the KZrider gallery, we have less than 50 six cylinder pictures.

The purpose of the new and improved KZ1300.com is to share knowledge and build a community of enthusiasts. -Almost all of the active posters at the two yahoo groups registered on the new site, Bill explains. The site now has more than 1100 members from all over the world, notably Switzerland, the UK, Germany, Guatemala, Australia, Norway, the USA and South Africa. Under the motto "We Speak Six Tech", the community is re-energized and enthusiastic.

Check out the new site at http://kz1300.com
When browsing through Youtube for Kawasaki (K)Z related videos, I occacionally come across some real treasures of the past. I usually forget to bookmark or download them, but today I thought I'd share a few of the ones I've actually remembered to save.
Let's kick off with a video I'm sure many of you have seen before. This is the complete 1973 Z1 900 Daytona records video "SO FAR SO FAST."
Another gem is this promotional video on the KZ650 from 1976. "At Kawasaki, we know what the good times of riding are all about... We don't just build motorcycles, we live them."
Here are a few training videos from Kawasaki, teaching mechanics to perform various maintenance tasks:
If you're still with me check out Arto Nyquist one wheeling a 1300.
This was just a little teaser of what's out there. I encourage all of you to search Youtube, Vimeo, and other video sharing providers for great little pieces of the amazing Kawasaki Z history.
Subcategories