Most stock cable-operated KZ tachs are inaccurate at idle rpm.
Imo it's often better when carb tuning to listen and feel for the best strong idle.
Where turning the pilot air screw doesn't make a noticeable difference, there's typically something wrong inside the carb (usually an imperfect pilot circuit due to an obstructed passage or an issue with the pilot jet itself).
The pilot jet must be perfectly "as new" clean. And when held up toward a light, should be able to clearly see through it, and see a perfectly round orifice. Over zealous cleaning, such as with wire, may damage the jet, so be careful when removing all the crust and crud from an otherwise good jet.
Here's a pretty good method for cleaning the pilot circuit.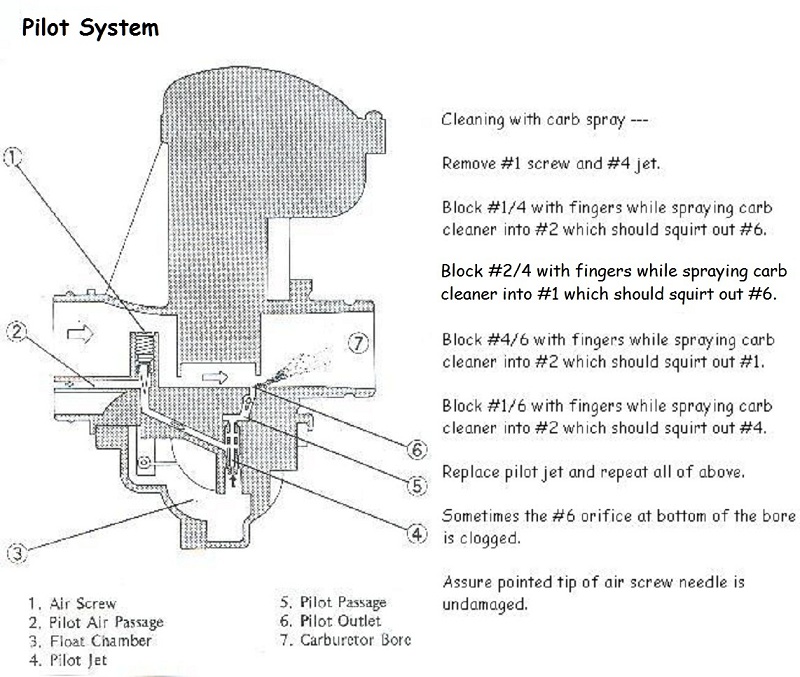 Wear eye protection
when spraying, because the spray
ALWAYS
backfires
.
Also, sometimes overlooked, is that a too high fuel level will cause a too rich mixture, and a too low fuel level will cause a too lean mixture, in an otherwise perfect carb.
Don't be misled by goofing around with measuring float heights while the carbs are partially disassembled and placed upside down on the work bench. An artificially measured float height is not the objective, and by itself, is meaningless. The carb doesn't care about the measured float height figures involved.
What the carb
does
care about is the
fuel
level
.
Perform and rely on the
clear tube test
to assure correct fuel level.
Besides an ample supply of fresh clean gasoline and correct fuel level in the float bowls, carb tuning is of course predicated on acceptable compression, valve clearances set to spec, properly timed healthy spark, and a clean unobstructed air filter.
Even perfect carbs can't compensate for deficiencies in the other components.
Good Fortune!