I have volunteered to take the 2nd leg of the relay ride in the main thread for this event so unless someone else wants to do this then here is what we have so far.
If anyone signed up for Alabama, Tennessee, Kentucky, Indiana, Ohio, West Virginia, Pennsylvania, Ontario Canada and Michigan please post a confirmation as to what part you can cover of the route.
We REALLY need a Mississippi (hopefully around the mid-eastern side of the state)
& Western New York near the lake or Erie PA relayer! Also anyone around the Bowling Green Ky area would help make the distances more manageable.
Here is the very tentative route: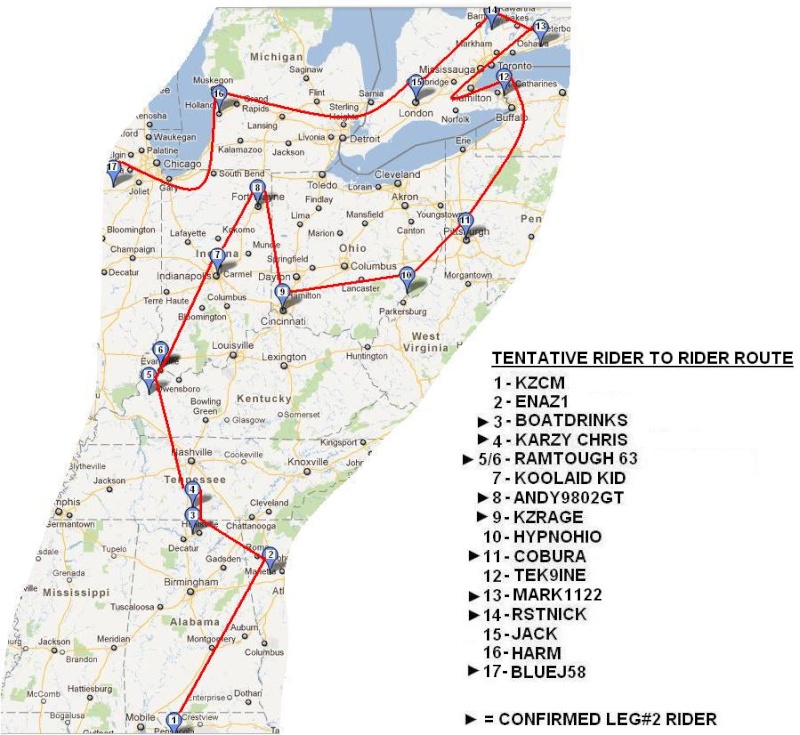 At the end of the route the token will be in Michigan for a possible hand off to the Chicago area or it can be shipped if needed.
Edit: Map Updated 1/20/2012; 1/21/2012
Rage, I'm in central MS., let me know how you have the relay routed. I'd love to ride in this one. Thankz.